The design of curved hot-bending die directly affects the yield of hot-bending glass.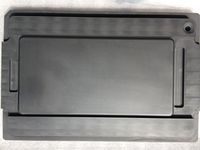 We adopt the patented technology to design various import, domestic mobile phone cover plate protective film graphite hot bending mold.
Cost: fully consider the customer's finished product factor, "customized"
Life: mould service life calcium glass: up to 6000-8000 times/set of high aluminum glass: up to 2000-3000 times/set.
(the die life is related to the equipment use environment and the mold environment, depending on the maintenance and usage)
Precision: considering the machining precision and tolerance of the mold.
Efficiency: customers only need to provide data and requirements, and can design all kinds of hot-bending graphite mould.
Flexible: can choose the design plan, can adjust the mold design plan according to the customer hot bending process.
High precision CNC machining.
We adopt high precision graphite special processing machine tool, auxiliary special graphite vacuum chuck and special graphite processing tool to ensure the processing precision of customer hot bending graphite mould.
Special purpose: all machining process and accessory processing hardware adopt special form.
High precision: maximum surface machining accuracy can reach 0.015mm and plane machining accuracy 0.005mm.
Efficiency: improving machining process, in order to improve the efficiency of mould processing, at present we adopt semi-automatic production craft, ready to put in the late of fully automated robot to improve production efficiency.
Capacity customization: at present, we can meet the output of 10 machining centers. The monthly products can reach up to 1500-2000 sets of graphite hot bending molds, and customers can customize the processing machine platform.
Processing scheme customization: we can offer a variety of processing schemes for customers to choose. Customers can customize the special processing plan according to their own process, and the long-term supply can be adjusted.
Mold quality inspection
Detection accuracy: our testing equipment should be calibrated regularly to ensure long-term accuracy.
Timeliness: every graphite mould must be tested on site.
Authenticity: three inspection reports for each batch of products.